Monday, November 10, 2008
9:35 PM |
Posted by WitchysHeart |
|
Edit Post
Hello Everyone,
I have been having alot of people have problems with downloading from 4shared, the items I have for download. My zip program has zipped them as Ace files, and some don't have their zipped program checked to unzip those or some just don't unzip those types. I have went and converted all the files to a zip file instead of ace files. That way, everyone should be able to download without having problems. Sorry about the problems and wouldn't want you to have to download another program to unzip those. I need to have a program that opens all zip files, I had a problem recently where my program wouldn't open 7z files. I had to download one that would. So I know how it feels.
Thanks again and if you have any more problems just let me know,
WitchysHeart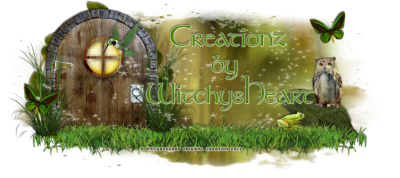 Labels:
Updates
About Me
WitchysHeart

TN, United States
I am 41 yr old mom of 2 two wonderful children. My daughter is 21 and my son is 16. I am into all Natural Remedies and TOTALLY ADDICTED TO TWILIGHT. I have been PSPing since 2004. I started writing Tutorials in 2008 and then started dabbling in Tag Templates, Masks, Scrapkits and Blog Layouts. I have also, started doing Stock Photo's and CU and PU Items. Hope you all kind find some things on here. Hugs!
View my complete profile

My Tube License's
My PSP Tubes
CILM
AMI
Zindy
KatNKDA
Barbara Jenson
Ismael Rac
Psyco
Rachael Tallamy
Dream Scape Imaging
PSP Tubes Emporium
Lorenzo Di Mauro
Pics for Design
Scraps and the City
Creative Design Outlet
Creative Misfits
PSP Party Central
PSP Asylum
Artistic Dreams Imaging
Art of Giving
Artistic Reality Talent
Bonnies Creations
indie-Zine
AIL

More Great Sites