Thursday, April 30, 2009
3:53 AM |
Posted by WitchysHeart |
|
Edit Post
I just now noticed this. I haven't been on my blog lately...things at home need done. But I have been tagged by Dee over at Little Mama Dee's PSP Tuts. You can find her blog over to the left.
8 Things I'm Looking Forward too
Wanting my 18 yr daughter to come home from Hawaii

Wishing I could find another job

More Hiking

Wanting my son to get out of the house, he stays in too much

Wanting more time with my boyfriend

For New Moon to come out in November

A car for me

My Tax Refund
8 Things I did yesterday
Slept too much

Washed Dishes

Washed Clothes

Vaccumed

Cleaned yard

Burned up, central air need fixed

Fixed Dinner

Watched Twilight again
8 Things I Wish I Could Do
Get out of my Tut Slump

Find a new job

Be more active

Meet Robert Pattinson (Yummy)

Quit being so tired

Be in a Movie

Go to Italy

Go to Hawaii to get my daughter
8 Things or Shows I Watch
Smallville

Supernatural

The Biggest Loser

Ghost Hunters

Days of our Lives

American Idol

Medium

2 and 1/2 Men
8 People I Tag
This I will have to get back to you on that. I have too look around.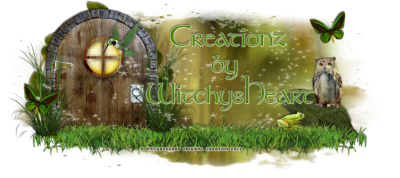 Labels:
News
|
0 comments
About Me
WitchysHeart

TN, United States
I am 41 yr old mom of 2 two wonderful children. My daughter is 21 and my son is 16. I am into all Natural Remedies and TOTALLY ADDICTED TO TWILIGHT. I have been PSPing since 2004. I started writing Tutorials in 2008 and then started dabbling in Tag Templates, Masks, Scrapkits and Blog Layouts. I have also, started doing Stock Photo's and CU and PU Items. Hope you all kind find some things on here. Hugs!
View my complete profile

My Tube License's
My PSP Tubes
CILM
AMI
Zindy
KatNKDA
Barbara Jenson
Ismael Rac
Psyco
Rachael Tallamy
Dream Scape Imaging
PSP Tubes Emporium
Lorenzo Di Mauro
Pics for Design
Scraps and the City
Creative Design Outlet
Creative Misfits
PSP Party Central
PSP Asylum
Artistic Dreams Imaging
Art of Giving
Artistic Reality Talent
Bonnies Creations
indie-Zine
AIL

More Great Sites